In the next 30 years or so, automated machines and advanced robots could potentially replace tens of millions of jobs. But do you actually know which jobs are on the line and which ones will continue to go on while our future robot overlords' probe ever deeper into our lives? And I am not just talking about fanfiction here. I am talking about robots that are actually giving workers a run for their money. Read on to see if your job is in jeopardy as well!
1. Bartender
With custom designed drinks all the rage these days, how is your bartender holding up? Well meet Nino! The bartender bot who can concoct an almost infinite variety of cocktails from up to 170 bottles of different liquors stocked in its overhead rack. A phone app lets users place orders, where they can play around with endless possibilities and design their own drink or play it safe and choose a recipe created by a professional mixologist. Nino's two robotic arms work in tandem; one accomplishes the complex tasks of stirring, shaking and muddling, while the other delicately pours and serves. No mess, no clutter, no incessant waiting for another round on a busy night! Good luck competing with that!
2. Pizza Delivery Guy
Nuro's completely autonomous pizza delivery vehicles are giving pizza delivery guys a run for their money. I mean don't we hate it when after waiting forever for our pizza, the pizza guy turns up, only to get the wrong order. Nuro has a solution. Nuro's R2 vehicle, resembling an avant-garde handbag and about half the size of a Sedan, has started delivering pizzas for Dominoes. Users will be issued a code upon ordering to enter into a screen on the bot. The code opens up one of its two compartments so they can collect their scrumptious treats! Oh, and the big perk: no need to tip Nuro and you can even meet him in those pajamas you were netflixing in. No need to hustle into presentable clothes when the bell rings!
3. Burger Chef
Meet Flippy – a robot – a cloud-connected mechanical arm with 3D thermal scanners for eyes – that can fry 80 baskets of food or flip 80 burgers an hour, monitors that food, makes sure it is cooked to perfection each time, and even cleans up afterwards. While your average burger flipping guy would keep whining about the rush hours and the unendurable heat in the kitchen, Flippy is a nice guy who doesn't say anything and works the second shift happily as well.
4. Concierge
Do you want a reprieve from mean, horrible humans? Are you staying in a hotel to get away for a few days? But wait, won't you at least have to converse with a concierge upon arrival to check in? Well not anymore. Say hi to pepper. He shakes your hands, engages in small talk, recognizes faces and basic human emotions and adept conversation accordingly, and able to engage with people through conversation and his touch screen. Billed as Italy's first robot concierge, pepper knows how to welcome, inform and guide patrons in an innovative way. Pepper can walk you through the check-in process either through a touchscreen on its chest or with a conversation.
5. Server
Have you been to Shanghai recently? Well, if you haven't, you missed out on visiting any of Robot.He diners. These diners have replaced servers with microwave oven sized robots who roll around the dining room on table-high runways, delivering orders to different tables. No more waiters bumping into guests, trying to scout their way around tables. And our little robotic waiter is extremely suave: he wheels up to the table in a perfectly non-intrusive manner, raises its glass lid to reveal a steaming plate of the local fare, and announces in low, mechanical tones, "Enjoy your meal." How delightful! A waiter costs up to 10,000 yuan ($1,500) per month in Shanghai. This translates into hundreds of thousands in cost year after year. Not to mention, you need double shifts to have your restaurants up and running. With robotic serves working tirelessly day in and day out, no job is too big!
6. Fruit Picker
Fruit picking is a tedious and labor-intensive job to say the least. However, luckily, we have Fieldwork Robotics commercializing the technology. This robot is capable of detecting the ripest fruit via its state-of-the-art camera system, with infallible accuracy. It's picking arms reach into the bushes, plucks the fruit gently with just the right pressure and drop it in a collector before moving onto the next one. Since Raspberry picking is considered particularly challenging due to its uneven distribution on the bushes and its propensity to get easily damaged than other soft fruits, this technology is currently being tested out on raspberries A robot that can nail raspberry picking can surely harvest any other vegetable or fruit. Not to mention, each robot will be able to pick more than 25,000 raspberries a day, as managed to human workers who manage less than 15,000 in an eight-hour shift!
7. House Cleaner
Like your home spick and span but can't afford an arm and a leg in a house cleaner? Fret not, for iRobot has refreshed its line of cleaning robots, throwing in an updated vacuum cleaner, the Roomba s9 vacuum, and a cutting-edge mopping machine, Braava jet m6 mop, into the mix. They work together in tandem to keep your floors dirt-free and sparkly clean all on their own. They don't fight, don't harbor jealousies, work harmoniously together, and don't ask for a raise! Even better, users can kick off "Linked" cleans through the iRobot Home app, specifying whether they want the whole house cleaned or just a single room at one time. With 40 times the suction power of your average run-of-the-mill vacuum cleaners, ability to work without human input, and minimal disruption to your privacy, these robots could be the future of room service for hotel rooms!
8. Firefighter
Fire fighters put their lives at risk day after day, but even then, some situations are deemed too hazardous for human crews. Well not for the Firefighting Robot System, incorporating a Hose Extension Robot, a Water Cannon Robot, along with a command system and a recon robot. The water canon robot can reach even the most difficult to access locations to put out the blaze, such as petrochemical plants. A dedicated transport vehicle carries the entire Firefighting Robot System wherever it is needed, under a "reconnaissance and surveillance robot" tagging along.
9. Recycling worker
In municipal recycling facilities, discarded items going past on a conveyor belt are manually handpicked by workers according to what appears useful. While this has created a lot of jobs, it's a costly setup, which that makes this operation less feasible financially. This is where RoCycle comes in. This material-detecting robot hand is 85 percent accurate at differentiating between metal, plastic, and paper items when they're lying around, and 63 percent accurate when it has to grab them off a dynamic belt. However, the engineers are working on bettering those numbers by employing soft-bodied fingers to pick up objects so as not to destroy them. This better enables him to gauge the size of each item, while sure sensors in the fingers allows him to analyze the stiffness of that object's material by measuring the force needed to grasp the object. We are hoping to make the recycling process a lot more efficient and accurate when RoCycle is perfected. However, this also means that recycling workers need to look for new jobs.
10. Factory workers
With self-driving cars already on the roads, why not use them around the factories. Humans are slow and can get worn out pretty easily. Ford is working on a new self-driving factory robot that can efficiently and quickly deliver parts around the factory, alter its course based on obstacles, and free up more than 40 hours of time per day in which employees can deal with other manual tasks. Known as "survival", this first of its kind self-driving factory robot can easily adapt to its environment, which makes it a great resource for any factory.
11. Farm hand
It would be an insult to think of "Dot" as your run-of-the-mill self-driving tractor. Capable of performing 100-plus jobs, be it anything from manure spreader to rock picker and hay baler, Dot is the Transformer of ag-bots. The hulking machine navigates the field with ballistic precision even though it can carry 40,000 pounds at one time. When prevalent, think of how many farmhands it can replace at a time! Goldman Sachs predicts this burgeoning technology will raise crop yields 70 percent by 2050 and will save growers an estimated 20 percent in labor, fuel, and equipment overheads.
12. Masseuse
Getting a relaxing massage can do a world of good to your mind and body, helping you unwind at the end of a taxiing day. But are you really comfortable being partially naked in front of a human? Alex, the robot massager designed by Massage Robotics not only looks unique but massages your body with ease. Alex is so much better than your neighbor masseuse. He takes his time learning each person's body form and changes his movements accordingly to cater to each person's contours and body shape. Equipped with diagnostic functions and advanced sensors that can measure the exact stiffness of a particular tendon or muscle, Alex knows how to work his hands right.
13. Baker
Well I am feeling sad writing this one, since I have always found the sight of a baker in his white hat, tossing around dough with their dexterous hands, so fascinating. But then I had an encounter with Walla Walla, the Washington-based Wilkinson Baking Company's BreadBot. The fully automated bread-making machine is projected to crank out 10 loaves per hour, which is a deal breaker for military centers, schools, bakeries, supermarkets and convenience stores. It is projected to enhance the profit margins for shops by up to 20 fold by reducing the need for on-site baking staff and alleviating the incessant transportation lines that centralized bread baking entails, since it deals with the entire process of bread making, from kneading the dough to churning out freshly baked loaves.
14. Search and Rescue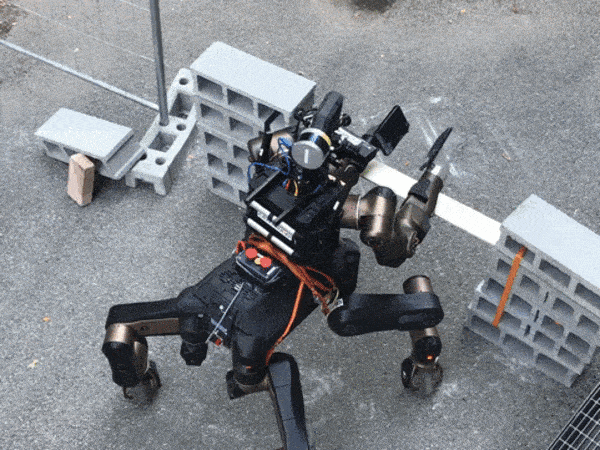 Researchers from the Istituto Italiano di Tecnologia have come out with a hybrid, centaur robot with two front-facing arms and four wheeled legs that can aid in future search-and-rescue missions. The robot can use its powerful arms to karate chop wood, climb stairs in seconds, navigate with ballistic precision through rubble and pick up heavy blocks. Standing at 93 kilograms and 1.5 meters tall, the Centaur's hybrid body structure makes it simultaneously tough and adaptable, which is what we lack in most Search and rescue workers. Its dexterous manipulation and robust locomotion within the austere conditions and rough terrains characteristic of disasters, makes it a tough contender to deal with. Carpenters
15. Carpenters
Researchers at MIT's Computer Science and Artificial Intelligence Laboratory (CSAIL) have started experimenting with robots that can build custom carpentry projects with expert skill. Robots make great helping hands, be it sawing or chopping, not to mention they work without risk of accidents or mishaps. Instead of buying off the shelf from IKEA, computer-aided design (CAD) system helps users choose what kind of furniture they want to create, including sturdiness, size, and general aesthetics.
Please follow and like us: