Love is in the air. No wait. It's the tantalizing smell of stuffed turkey and the sweet scents of pumpkin pie wafting out of some oven nearby. I can't wait to drizzle some cranberry sauce over the succulent meat and dig my fork into it. But before I do that, I need to get my brand ready for the onslaught of the holiday season. Starting this Thanksgiving! The fourth quarter is underway and marketers over the glove are scrambling to get eyeballs on their content. With competition at its fiercest, what does a brand got to do to get noticed? The answer: craft a stellar Thanksgiving social media marketing campaign!
Just recently, we saw Dunkin' launch its new lineup of fall beverage and foods in stores across the United States, six days ahead of its major competitor, Starbucks, and its Pumpkin Spice Latte.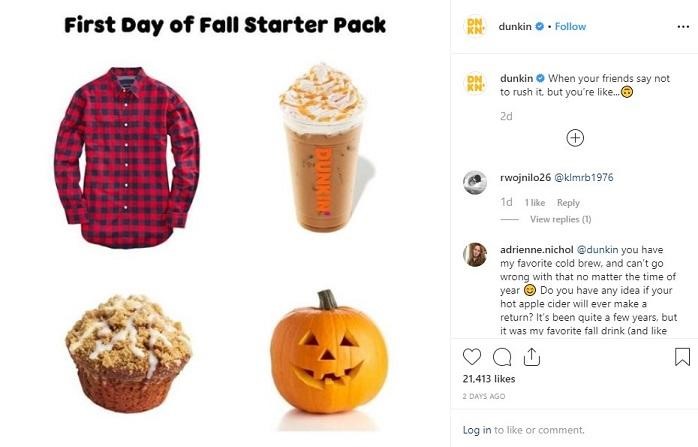 Something tells us it's never too early to plan your Thanksgiving holiday marketing campaign. Especially, if you are vying for the same audience that your competitors are targeting, it wouldn't hurt to start promoting your holiday sales campaign on social media right away. Fret not, for we have got a whole lot of Thanksgiving social media marketing ideas to help you pull your audience into the whirlwind of holiday festivities. Since Thanksgiving is all about family, food, gratitude, togetherness, generosity, charity, blessings, bounty and abundance, friends, travel, parades, sports, and the start of the holiday season, let's weave all these elements into spectacular Thanksgiving marketing campaigns that your customers will never forget.
Best Thanksgiving Marketing Ideas to Prepare Your Brand For Thanksgiving:
1.      Be GENEROUS With Giveaways
Thanksgiving is all about giving back. Your audience loves you. It's time to reciprocate that affection. However, if you are a brand that wants to portray their generosity this Thanksgiving, you don't have to organize charity collections to do so. Sometimes, all it takes is to offer an uber-generous giveaway to your followers to make them fall head over heels in love with your brand. Holding a giveaway can help you collect more local customers, email subscribers, and followers While you are at that, try and work in a turkey- the Thanksgiving staple- into the equation.
Free stuff is hard to resist. This is where offering giveaways helps to boost seasonal sales, increase brand awareness, and improve engagement. Giving away gift certificates or branded freebies also helps you highlight your holiday services and products without sounding salesy. Talk about killing two Turkeys with one arrow.
Look at what 'Stella & Dot' has come up with on Instagram to celebrate the festive spirit of the occasion:
In a nutshell, this looks to us like an early Christmas campaign masquerading as a Thanksgiving one. Thanksgiving brings family together so why not do a bit of family holiday shopping right from your living room. Give your loved ones a wish list, while Stella & Dot will provide you with a special-order form and look-books to run rampant on the shopping spree. As a special treat, they are giving away $100 and discount on any 3 items at a minimum purchase of $500.
Similarly, giving away a gift certificate is one of the best Thanksgiving promotion ideas to attract more contest participants, since instead of you pre-defining the prize, the winner can choose the right product for themselves: Take an example from Raye's mustard Thanksgiving social media post.
RT + Follow us to ENTER TO WIN a $75 Dollar Gift Card to a Grocery Store of your choice from Raye's Mustard! Contest ends SUN 11/17 at Midnight so start sharing! #RTToWin #EnterToWin #Giveaway #ContestAlert #FollowToWin #Thanksgiving #TurkeyDinner #HolidayCheer #ContestGiveway pic.twitter.com/9CAHlKzqBV

— Raye's Mustard (@RayesMustard) November 13, 2019
You can also entice customers to share and promote your content for a promise of giveaways like OCHO candy has done in their Thanksgiving social media post.
Even better, Philadelphia is willing to part with their secret cheesecake recipe (the original, like the first immigrants, made it) this Thanksgiving:
https://twitter.com/LoveMyPhilly/status/1193860940149723136
Acme market is offering to giveaway a Signature Farms or Jennie-O Basted Frozen Turkey (10-22 lb.) when you spend $100 in a single transaction.
Permatex is giving away an XL Butterball turkey deep fryer this Thanksgiving. All you have to do to enter the giveaway contest is to like their Facebook or Insta page and tag two friends.
https://twitter.com/Permatex/status/1192487247750275073
A great idea for a giveaway centered on a true Thanksgiving marketing theme is to give away a Thanksgiving dinner from a local business in your area. For a more pocket-friendly version, you can give away a portion instead of the entire dinner, such as dessert or a few appetizers. Just make sure you collect email addresses so you can try to turn contest entrants into customers.
1.       Run A Seasonal Sale
Most customers are on the lookout for unique offers and discounts in the fervor of the holiday season. In fact, more than 88% of impulse buyers are triggered upon seeing a great sale. With an ever-greater influx of online shoppers, promoting your seasonal sales on various social media platforms is a great idea. According to eMarketer, 38% of US holiday shoppers are likely to use a smartphone to find holiday deals, the biggest sale days of the year.
If you want to lure your customers into buying from you, announce a seasonal sale, create an aura of urgency around it, and offer lucrative discounts that they can't resist. Here's how JCrew did this in 2018:
You can imagine how giving a massive 50% off most full-price items caused a buzz around the company: This Thanksgiving social media post got almost 16,000 likes and over 370 comments from customers. StudioWilliamCutlery is not only offering a generous discount, they are also willing to plant two trees in collaboration with the National Tree Foundation for every 200 pounds spent.
We're GIVING everyone 20% OFF with code: SW20THANKS
And for every £200 spent, we'll plant 2 #trees with the International Tree Foundation (@ITF_Worldwide)
Our way of saying THANKS!https://t.co/uOLRu6xHWl #HappyThanksgiving pic.twitter.com/JMafmJJSAx

— StudioWilliamCutlery (@Studio_William) November 12, 2019
If you want to run a similar seasonal sale on social media this Thanksgiving, employ stellar social media monitoring tools before launching it to comprehend what your customers expect from your brand. By analyzing customer complaints, questions, reviews, and feedback, you would be in a better place to satiate the needs of your customers and give them a reason to stay loyal to your brand.
1.       Market Your Products To The Season
If we talk about Thanksgiving promotion ideas, you don't have to sell Turkeys or pilgrim hats to be prepared for Thanksgiving marketing. If you think out of the box, any product can be marketed for Thanksgiving. For instance, if you sell candles, lay them out as the perfect hostess gift. Even better, if you have any that are reminiscent of Thanksgiving in any way, they could be marketed as the perfect accruement to any Thanksgiving dinner.
If you sell home décor, educate your customers on how to get their house ready before the big dinner or how to set up an impeccable table, with your products of course. If you sell clothes, sort out anything that can be linked to Thanksgiving, and market them as their go-to Thanksgiving day attire.
First batch going out today!! Order now! #Thanksgiving2019 pic.twitter.com/8eQY7CmSjT

— Nicolette Mason (@NicoletteCro) November 6, 2019
Next to Gratitude, food is the next central element of Thanksgiving, so if you sell some food products, craft scrumptious Thanksgiving recipes with your product at the center. You can share your inventive recipe idea or ideas in a video, blog post, podcast, Infographic, Thanksgiving social media post, or more. For instance, Papa John's brought their  #BetterHolidays Pinterest Board to the table to inspire out-of-the-box Thanksgiving recipe ideas! Check out the board to see creative Thanksgiving hacks that will teach you how to use their signature breadsticks and garlic sauce in your Thanksgiving turkey and stuffing.
https://twitter.com/PapaJohns/status/668833755377733632?ref_src=twsrc%5Etfw%7Ctwcamp%5Etweetembed%7Ctwterm%5E668833755377733632&ref_url=https%3A%2F%2Fwww.designmantic.com%2Fblog%2F7-creative-brands-on-thanksgiving%2F
If you sell desserts, market them as the ultimate finish to the Thanksgiving dinner. Hershey's even has a separate page dedicated to Thanksgiving-themed recipes. If you sell dinnerware, market them as the perfect wat to set up your Thanksgiving table.
If you sell cakes and confectionaries, why not concoct a Thanksgiving-themed spread. Then, promote them on all your social media accounts and via email.
https://twitter.com/TraceleneJSJ/status/1193627977763848192
1.    Run a Festive Thanksgiving Contest or Competition To Engage Followers
Creating a competition or challenge is one of the best Thanksgiving marketing ideas to get people excited about your brand. Not to mention, social media contests are best for building your email list and boost your social media engagement. However, creativity is the key when it comes to contests. You can challenge your followers to write a Thanksgiving Haiku or Limerick, submit their videos and then leverage user-generated content to keep your feed interesting and fresh. Similarly, you can prompt people to share their Thanksgiving wish lists with you,
Submission posts foster a sense of community. You can run a recipe contest that encourages your fans to confide their time-honed, favorite holiday family recipe with you, for a chance to win a prize. Other fans can vote for the recipes that catch their eyes and make their mouths drool. Have your fans share their entries with their friends to get more likes and votes. They get votes, your Thanksgiving social media post gets more likes; It's a win-win situation really.
Holiday contest gives you the perfect pretext to collect email addresses and other personal information from unsuspecting people who follow you on social media. The best way to do so is to ask them to enter a sweepstake just by giving away some contact information, for a chance to win amazing products/gifts from you.
With more than 300 million photos being uploaded to social media every day, Photo sweepstakes are an easy way to grow your email list and engage with your audience. You could ask people to submit their family Thanksgiving photos, Their Turkey pictures, or photos of their house décor to enter the competition. Perhaps you can even ask people to reinvent some classic Thanksgiving dish or tweak some Thanksgiving favorite by incorporating your products, and post pictures for a chance to win.
Trivia quizzes are also an exciting and fun way to get your fans talking. Add some prizes to the mix and you have an exciting promotion that your fan base will really enjoy.
When it comes to America's most popular Thanksgiving side dishes, more than half of those celebrating the holiday chose stuffing (53%) or mashed potatoes (51%) as one of their favorites.

What are your favorite #Thanksgiving side dishes?https://t.co/lWAdA9bT87 #Thanksgiving2019 pic.twitter.com/z9RSI0M4uf

— YouGovUS (@YouGovUS) November 5, 2019
If you've got a large audience or a more valuable, desirable prize, you can try to make your audience work a little harder to get it. In this Instagram Thanksgiving campaign, Innovative Percussion is asking their followers to comment, follow, and like for a chance to win 4 pairs of sticks/mallets. The hard part is where you have to guess the 6 product model series that make up the turkey picture.
Hashtag contest is one of the best Thanksgiving promotion ideas. You can ask your customers to simply follow your account on Instagram, Twitter, or Facebook, upload their photo and put your hashtag. Or Retweet your post to have a chance to win a prize.
1.      Offer Product Bundles
Even better, one of the best Thanksgiving marketing ideas is to create themed product bundles. Sort through your inventory and put together a few Thanksgiving relevant products together in various themed bundles. The key is to offer bundle discounts which would entice them to stop and pay attention.
Perhaps it could be a "Thank Goodness for Thanksgiving Hostesses" bundle that incorporates a hand-embroidered kitchen towel, oven mittens, and an apron. Or something like a "The scents of Thanksgiving" bundles that includes some of your best pumpkin or cinnamon-scented skincare products. On a funnier note, you can introduce a "Thanksgiving survival" bundle containing bath bombs, a stress-reducing oil, and a soothing scent, for those who are dreading an entire day of family time, Have fun and get creative! Your customers will love these easy gift-giving ideas.
See how Hester and Cook have put together this gorgeous bundle, including Die-Cut Placemats, Die-cut Harvest Placemats, a Gold Classic Stripe Runner, a Table Accent, and 12 Orange Frame Place Cards; everything you would need to set up an exquisite table if you are hosting the big dinner this time.
Customizing some of your products for Thanksgiving is also one way to boost short-term sales. For instance, if you own a clothing brand, you can launch a limited-edition collection in line with the Thanksgiving spirit.
Homemade! Perfect top for the little turkey in your life!#BellaRoseDesignsMore#Homemade#Thanksgiving2019 pic.twitter.com/BsyGklvNvl

— Bella Rose Designs & More (@BRDesignsmore) November 6, 2019
1.    Make Your Feed The Hub of Happy Thanksgiving Posts
Your customers and followers are downright swept up into the holiday festivities. In order to stay relevant to them in these days, it works magic to fill your social media posts with Thanksgiving posts, starting as early as now and built up to the big day. Let me give you a few posting ideas:
Not everyone has the most impressive time management skills. For the most inspirational Thanksgiving social media ideas, create a planner to help them plan everything right up to the big day. This infographic is uncomplicated yet extremely useful and all-encompassing.
There is no better way to inspire others during the Thanksgiving season than to share the most motivational Thanksgiving quotes. Thanksgiving is all about celebrating with those near and dear to you and to be grateful for the intangible things in life. Fill their feed with inspirational quotes to help them stay optimistic and jubilant this holiday season.
Thanksgiving is synonymous with amazing food, but unfortunately not everyone can be Gordon Ramsay. Help your customers by posting amazing recipes that they can try their hands on this Thanksgiving. See how Delish makes us drool with their pecan pie recipe.
Boozy Pecan Pie Martinis = the best way to get lit with your family this Thanksgiving.Full recipe: http://dlsh.it/uuSXjfI

Posted by Delish on Thursday, November 7, 2019
Post awe-inspiring pictures of your products, no matter what you offer, laid out in a Thanksgiving-inspired setting.
https://www.instagram.com/p/Bb2DNSUhX1a/?utm_source=ig_embed
https://www.instagram.com/p/BqfX7mAFktu/?utm_source=ig_embed
Show your followers how your products can make their Thanksgiving all the more better.
Pumpkin isn't the only spice your dessert table needs this #Thanksgiving. Try these Mini Spiced Apple Cider Cheesecakes made with rich and smooth PHILADELPHIA Cream Cheese. #ItMustBeThePhilly
Recipe: https://t.co/4DVEyDYRfz pic.twitter.com/FY7gZjoY6m

— PHILADELPHIA (@LoveMyPhilly) October 29, 2018
Prompt conversation by asking your followers to share their intimate holiday moments with you. It could be an essay about the things you are thankful for, their disastrous Thanksgiving stories that seem hilarious now when they look down the lane, or a story about the people who made a difference in their lives.
#Thanksgiving is the most mutual day of the year. So we're using this special moment to celebrate the people who inspire us. Whether you look out for others or had someone look out for you, tell us about your stories. #LiveMutual

— MassMutual (@massmutual) November 21, 2018
Posting Thanksgiving images and GIfs is an easy and hassle-free way to stay relevant to the occasion.
Take this opportunity to thank your loyal fans and customers who have helped you grow.
Nothing sells better on social media than humor nowadays. Incorporate Thanksgiving puns on any Thanksgiving social media ideas. Go for "gobble gobble", or classics like the Mayflower, acorns, pilgrim and turkey jokes, accompanied with the right hashtags to make it easier for people to find them.
If you are a restaurant or a food brand, there is nothing that can catch the eye of your customers better than drool-worthy photos of your Thanksgiving specials.
https://twitter.com/ortzinyc/status/1194041542991855616
Is your brand planning to do something unique on this Thanksgiving. We would love to hear about it. Do tell us in the comments section below.
Please follow and like us: